BUY MY BOOKS | HOME | FICTION | ESSAYS | ON-LINE DIARY | MARGINALIA | GALLERY | INTERACTIVE FEATURES | FAQ | SEARCH ENGINE | LINKS | CONTACT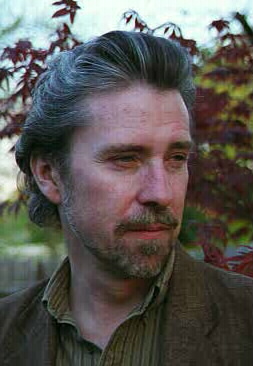 the official website for the writings of
ralph robert moore
www.ralphrobertmoore.com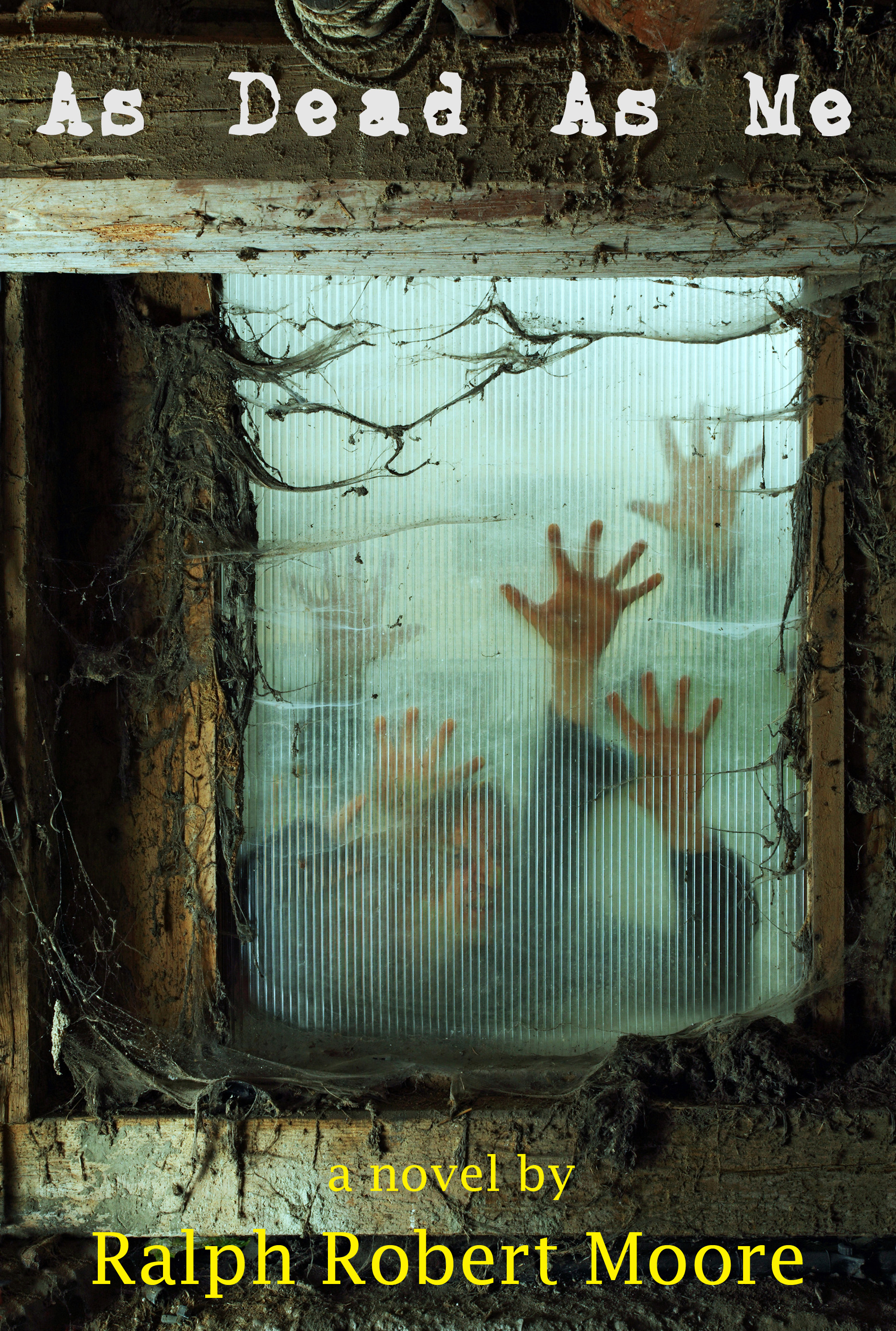 My latest novel. A first person account of the zombie appocalypse, from its beginning to its end.
"It takes something special to interest me in a zombie novel, and this really is something special. Relentless, unsentimental, and with a plot that moves like a freight train. You want bleak? Read this…an excellent novel from an excellent writer." Gary McMahon
"Rob Moore has done it again; turned a conventional theme of zombies and all the genre cliches that go with it into something that rises so far above the ordinary that it takes your breath away (no pun intended!). This book has depth. It is not only a visceral tour de force, but has the advantage of Moore's extraordinary imagination being brought to bear, introducing characters and situations that you care passionately about. Without giving too much away, the climax to the story astounds the reader by its spectacular, heartrending audacity. A brilliant achievement." Trevor Denyer
"By making his characters so fully rounded, Moore gives us a reason to care about them, and this in turn makes the book's resolution all the more poignant and painful… These are just ordinary human beings, acting with common decency in the face of the unacceptable…Moore has written a zombie novel, but it's not just another zombie novel. He takes the familiar and makes it heartrendingly sad, but not at the expense of the action fans of this subgenre will have come to expect from zombie fare." Peter Tennant, Black Static 37
Amazon Kindle US
Amazon Kindle UK
Amazon Kindle Canada
Amazon
Amazon UK
Amazon Canada
iTunes, iPhone, iPad, iPod
The NOOK
Lulu
---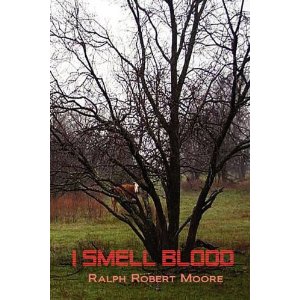 My second short story collection, I Smell Blood, is now available as a trade paperback and e-book download. Almost 100,000 words of fiction, including eight stories and my short horror novel, Kid. Please go here for details.
Critical acclaim for I Smell Blood
"Disturbing. Nightmarish. Terrifying. And above all original. Ralph Robert Moore's new collection is unlike anything else I've read all year. All decade. It's also bloody good. I Smell Blood, Ralph Robert Moore's second short fiction collection, reinforces his reputation, amongst those in the know, that here we have a genre-storytelling giant in our midst…this is a surefire cult hit which deserves wider recognition…Moore manages to distill the best qualities of horror writing and produce something which is unique…conventions go out the window, and through it, something far more beastly crawls…Moore lends you his eyes (or lets you hop into his head, a la Kid) and it is a very, very dark place indeed…Moore here tackles deep themes. Beyond the white picket fence themes. Sex games, gender relationships, obsessions…the deepest horror here are the things which human beings are capable of doing to other human beings."
AJ Kirby
The Short Review
"With eight stories and the short novel "Kid", the new collection…combin[es] horror and gonzo invention in a winning combination, with an unadorned prose style that…drives the narrative forward at a cracking pace and allows for moments of surprising tenderness.
…Finally we have the short novel "Kid", weighing in at approximately a hundred and twenty pages, and the undoubted highlight of this collection…The novel's eponymous hero is a young man with the ability to head hop, to enter and insinuate himself into the mind of another and eventually seize control of his body…there's plenty of explicit sex and violence, with the scenes in which a man's face is removed particularly horrific…crime lord Knuggles is a master stroke of invention…the man oozes menace, and I cringed in anticipation of something terrible taking place every time he held centre stage…A particular highlight is the dazzling and vividly cinematic shoot out at a restaurant when the kid takes on another head hopper, each of them controlling a selection of stooges.
..."Kid" was a wonderful finale to one of the best collections I've read this year, delivering exactly the kind of uncompromising thrills and spills I've come to expect from this writer."
Peter Tennant
Black Static 24
"Ralph Robert Moore's second collection confirms the excellent qualities displayed in his previous book "Remove the Eyes", namely a powerful imagination, an extraordinary degree of originality and a great storytelling ability… A highly recommended book."
Mario Guslandi
from a review on HORRORWORLD
One thing that is very evident from the moment you start reading [I Smell Blood]: these stories are far from predictable…The characters here inhabit surreal worlds grounded in reality but full of outrageous surprises.
"Visibility" [is] a tale so rich in character and atmosphere that it takes your breath away….["Afoot"] drills deep into what motivates people to want to break away from a society that confines our base instincts... The novel, "Kid", is a faultless mix of sure-fired observation…that hinges upon a plot that combines a dark and morbid supernatural ability with a crime mystery…Once more, the author has created a fascinating ensemble of characters…
Moore's work is consistently fascinating, original and devastating. His characters speak to you from whatever hell they inhabit, with clear, unambiguous voices...[I Smell Blood] is a worthy successor to "Remove the Eyes."
Trevor Denyer
Midnight Street 15
Amazon Kindle US
Amazon Kindle UK
My Storefront
Amazon
Amazon UK
Amazon Canada
Barnes and Noble
Abe Books
The Apple Store
Barnes and Noble's NOOK reader
---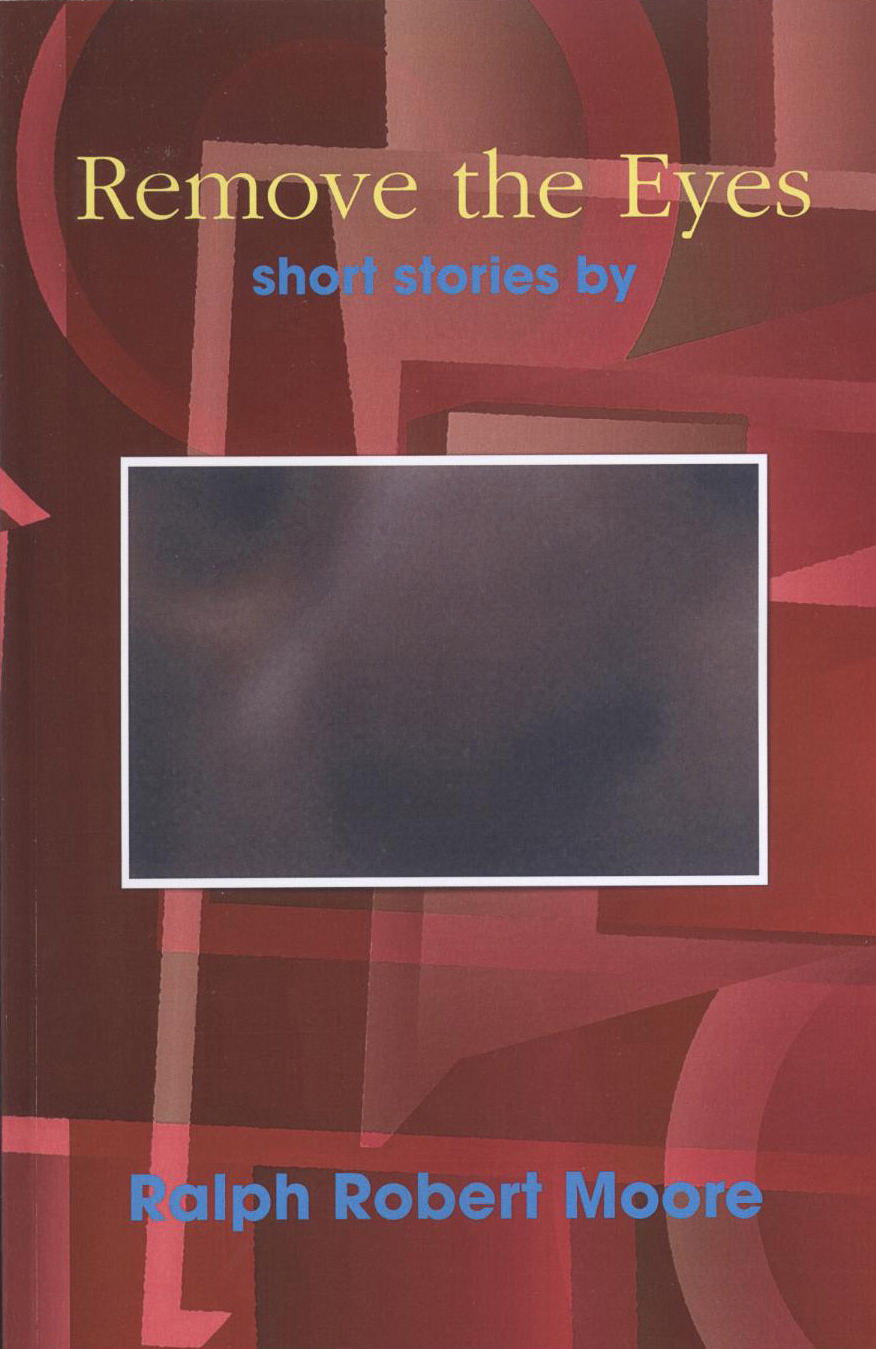 My first short story collection, Remove the Eyes, is available as a trade paperbook and e-book download. Please go here for details.
Please go here for more details and ordering information.
Critical acclaim for Remove the Eyes
"Tired of the usual suspects? Bored with the same old genre clichés? Then follow my advice and read Ralph Robert Moore, a hell of a writer whose work is provocative and refreshing, never ordinary, always imaginative and graced by a compelling narrative style…Moore has all the features of a great writer: he conceives original plots, creates credible characters and makes them speak plausible dialogues, and, most of all, is a terrific storyteller. Try him, you won't regret it."
Mario Guslandi
from a review on Hell Notes
"…[Moore's] work is not quite like that of anybody else. He is a true original, someone who has taken on board the lessons of genre and mainstream, then harnessed both to his own ends, and if you are looking for something different, then I can't recommend this collection highly enough."
Peter Tennant
from a review in issue 14 of Black Static
"Unusual, erotic, frightening and stunningly good…This collection showcases the wide and versatile range of [Moore's] work. From the horrors of the internal demons that infest the wonderful "The Machine of a Religious Man" to the powerful and erotic, yet despairing "Rocketship Apartment", these stories capture the extremes of human experience. The writing is tight and uncompromising. The dialogue provides depth to the narrative, drawing the reader into shocking and unusual scenarios that stun, remaining in the memory long afterwards."
Trevor Denyer
from a review in issue 13 of Midnight Street
Amazon Kindle US
Amazon Kindle UK
Amazon
Amazon UK
Amazon Canada
Barnes and Noble
Abe Books
---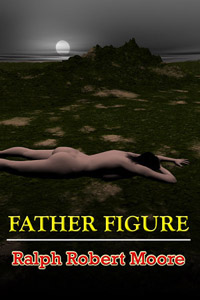 My novel Father Figure, a bestseller for its publisher in trade paperback, is now available for free in PDF format. Click here to go to a page where you can download the complete text of the novel.
"It is easy to see why Father Figure has become an underground classic over the years. It is a dark, extremely disturbing but completely gripping suspense thriller with a strongly erotic subtext...Moore is an extremely talented writer with a gift for pushing the reader's emotional buttons...certainly liable to become a cult classic, and deservedly so."
From an editorial review
---
Critics' Comments on Specific Stories
"For me, the masterpiece of the collection is The Rape by Ralph Robert Moore, a multi-viewpoint – in every sense of the word – examination of an apparent rape (or is it) that sizzles with tension and inventiveness."
Terry Grimwood, in Whispers of Wickedness, reviewing The Rape, published in Sein und Werden.
"…once again the editors have confirmed their extraordinary literary taste and excellent editorial instinct by selecting twenty stories which, for the most part, are up to the high expectations of 'Darkness Rising' aficionados…In some instances, I suspect, the stories are so good as to surpass even the best from the previous volumes, much to the delight of everyone fond of solid, compelling short fiction...[four of the stories] are really outstanding..."The Woman in the Walls" by Ralph Robert Moore is quite amazing. Despite the tell-tale title (believe it or not, that's the core of the plot!) the story is so original and full of surprising twists it remains absolutely memorable."
Mario Guslandi, in The Agony Column, reviewing The Woman in the Walls, published in the hardcover anthology, Darkness Rising 2005.
"This is a very strong tale, which will take a hold of you at the beginning and grip until the end. It tells of a farmer and his family and the tragedies which fall upon them, and of the dedicated employee who does anything the farmer asks of him. I found this tale to be very emotional, yet creepy and violent. Moore puts us, the reader, right into the story as if we are driving it, and we are."
Chris Cartwright, in Whispers of Wickedness, reviewing The Machine of a Religious Man, published in Midnight Street, Spring 2005
"…as it's always the case in any anthology, some stories in "Read By Dawn" are positively awful, some just ordinary, and only a bunch are worth mentioning. The latter group, in my opinion, amounts to a dozen, which is not bad at all in a volume assembling twenty-seven tales …The Little Girl Who Lives in the Woods by Ralph Robert Moore is a very dark, cruel tale about the hidden truths of human existence, blending the reality of spoiled innocence, loneliness, violence and hunger for love."
Mario Guslandi, in Horror World Review, reviewing The Little Girl Who Lives in the Woods, published in the anthology, Read Before Dawn, 2006.
"Another mind-blowing story is Truth Be Told by Ralph Robert Moore, and it is probably the story that most fits the 'artifice' remit. A couple – Franklin and Sarah – are talking. He questions her about her encounter at work with another woman, and his questions gradually lead her on to more and more pornographic descriptions of the encounter. It is obvious from her changing stories that much of what she is saying cannot be true. Is she taking her cues from Franklin's (leading) questions? Is this some sort of a game that they play regularly? But there is a narrative outside of Sarah's, and it is moving on and taking the reader somewhere disturbing. A quite remarkable story."
Jim Steel, in Whispers of Wickedness, reviewing Truth Be Told, published in Sein und Werden, Volume 1, Issue 4, 2007
---
If you're here, it's probably night. You can see a window from where you sit, and the window is dark. Who really knows what's outside?
I write. If you read, we've just made a connection.
SENTENCE is the forest you fall asleep into.
Like most authors, I'm more comfortable between covers, but the truth is that's getting harder and harder to achieve these days. Markets have become increasingly timid in this family values age. Plus the table of contents of most periodicals nowadays is decidedly tipped in favor of the falsehoods of nonfiction over the disturbing truths of fiction. Length is another alarm. Many small-circulation magazines, understandably, want to represent as many writers as possible in an issue, and therefore are less likely to accommodate the girth of a well-fed novella.
Back in the thirties, when fiction magazines were as popular as television is today, young writers could move to the cement and grass of the city and be on newsstands two months later.
We bemoan the loss of those days of opportunity, but the truth is we now have more magazines than ever before, only they're called websites. Thanks to cyberspace, anyone can put out their own magazine. No more backroom arguments with printers, no more getting down on your knees in front of advertisers, no more embarrassment trying to extract your right index fingertip from the white string knotted atop the bundle of the latest issue.
Some people say, but if you put your fiction on the web, it'll be stolen. Let's examine that. What could be stolen is either the story itself, or its ideas. A story can be stolen printed or posted, but it should be fairly easy to establish, in either case, the author. If you want, include in your text an anagram that, when held up to light, identifies you like a watermark as the author. Ideas can be stolen-- a simile, a description, a joke-- but that will happen regardless of the medium in which your baggage is left alone on the airport floor. The truth is, fear of plagiarism is fear of readership.
We have an enormous range of talent out beyond the electricity. Talent that can share on the Internet. There are dangers, but to be plagiarized is never fatal. What is more important is to be read. Because if it's in a box, and no one but you knows about the storms raging through the paragraphs, the footsteps plodding soggily down the sentences, water dripping off the rims of words, that's the biggest shame of all. A fizzle. Because the real achievement of writing is not the writing. The real achievement of writing is someone else reading the writing.
I've been published in America, Canada, England, Ireland, India and Australia, and translated into Lithuanian. My fiction has been called "graphically morbid". My writings are not for everyone. Are they for you? Find out.
You can either go to one of the links in the upper left of this page to read the complete texts of many of my short stories and other writings, published and unpublished, as well as lengthy excerpts from my novels, or you can go to Words Walking Nude, a collection of about fifty short excerpts from my work, to see if you like my style, and what I have to say.
Art is an invitation to go inside someone else's mind. To see our world as they see it. SENTENCE is my mind.
I'm glad you came. I just lit a cigarette. I just poured Merlot. I hope you enjoy your exploration.
---
Webmaster Ralph Robert Moore at robmary@swbell.net. Entire contents Copyright © 1997-2014 by Ralph Robert Moore, All Rights Reserved.
For a complete chronology of site updates, please see HISTORY.
Established January 1, 1998.
Ralph Robert Moore on Facebook
---
"All was chaos, that is, earth, air, water, and fire were mixed together; and out of that bulk a mass formed-- just as cheese is made out of milk-- and worms appeared in it, and these were the angels."
-- Domenico Scandella, 1599 (Two years before being burned at the stake).


turtles in the attic (again)
---
march 1, 2014
I woke up in the middle of the night last week to a rustling sound. Lifted my head off the pillow, ears rotating in our bedroom darkness. Didn't take long to figure out the rustling was coming from the attic.
We had turtles up there again.
In Texas, turtles are a serious problem. Their migrations frequently close down highways for days (since they cross the highway so slowly.) Nowadays, if you're sending an express overnight package to Texas via FedEx or any of the other national carriers, there'll usually be an asterisked footnote: "Subject to level of turtle activity". That's how bad it's gotten.
In late Winter, you can often see turtles scaling the outer walls of homes, heading towards the eaves, where they chew turtle-holes into the wood to gain access to the attic. And in fact, around Halloween Mary and I saw the south wall of our home had quite a few turtles climbing up it. "We better call a turtle removal expert to pull them off our walls, before they reach the eaves," I said, and in fact I planned on calling one such agency Mary and I had used in the past, sometime after the Christmas holidays, which would normally be in plenty of time before the turtles actually reached the eaves. However, we got distracted with other issues, and we had a couple of unseasonably warm days (when the weather is nice, turtles can clamber up a wall more than a quarter of an inch a day), so we never stopped them in time.
After a few days of that rustling sound, which is so characteristic of turtles (hear it once, and forever after you'll think, That's a turtle up there), we started to hear the egg rolling sound. Because attic floors are rarely perfectly level, the eggs will roll back and forth all day and night. It's like living under a bowling alley, where everyone rolls gutter balls. Not that turtles could ever actually bowl, since they have flippers instead of hands. (I'm assuming they couldn't. They could push a bowling ball with one of their flippers, but I don't believe the bowling ball would get all the way down the aisle. I could be wrong.)
So we called Tom's Turtle Removal Services LLC, a nation-wide corporation with franchises in most cities.
To remove a turtle, a turtle removal technician climbs up into your attic, lifts the turtles off the floor and places them in pens. The captured turtles are then brought downstairs and out to the trucks, and relocated to nearby marshes. If there are no nearby marshes available, or if those marshes are already at "full capacity", due to a particularly lustful turtle reproduction cycle, and that does happen, the turtles are transported to far away marshes. Which makes sense.
However, the technician they sent out was quite elderly, and the turtles kept outrunning him. He climbed back down from our attic at the end of the day sweaty and winded. His turtle collection pen was empty. We were bitterly disappointed. I punched a wall.
After he mopped his brow, and drank quite a bit of water, he shook his head. "You got a real problem up there, Mr. Moore. They've established themselves. Half your attic floor is covered with lily pads."
I stared at him. "What do lily pads have to do with turtles? That doesn't even make sense."
He was bent forward, hands on his knees. "It's all I got."
Of course, old folklore is that if you want to get rid of turtles, you just put a few rabbits in the attic. They think the turtles' shells are rocks, and love to climb up on top of the shells and start hopping up and down. That drives most turtles crazy, so they start a slow exodus out of the attic.
Mary and I went to a pet store yesterday and bought a pair of rabbits. We named the male rabbit Hippity-Hoppity Penis. We weren't sure what to name the female rabbit, but then it occurred to us, the next morning over breakfast, ham and eggs, buttered rye toast, to name her Hippity-Hoppity Vagina. We named them "Hippity-Hoppity" because that's a pet name that only works with rabbits and kangaroos, and kangaroos don't irritate turtles, so it would be unlikely we'd ever have kangaroos as pets. We added "Penis" to the name of the male rabbit because it has a penis. Originally, we were going to name the female rabbit Ragina, because its face looked a little bit like the face of this little girl who used to live near us in Santa Barbara, who would throw yanked-off dolls' heads at the front door of our apartment, but then we thought, Why not change the "R" to a "V", to represent "V for Victory"? Once we did that, it occurred to me sometime later that, Wow, that's also the name of the female sex organ, so it's kind of like the names for our pet rabbits have a theme (they both mention sex organs.) Funny how often that happens.
Two rabbits are all you need. They reproduce quickly, so there'll be plenty of rabbits up there hopping on the turtle shells. In fairness, we'll probably give our next door neighbors a heads-up that they may start seeing turtles climbing the walls of their home sometime during the 2020's. That's just being a good neighbor.
I asked the pet shop owner how we get rid of the rabbits once they've gotten rid of the turtles. He scrunched his eyebrows at me. Friendly laugh. "Ask me a difficult question, Mr. Moore." Tilt of his head, in a "just kidding" gesture. Nodded at a cage full of raccoons. "Just put these raccoons up in your attic, and they'll chase those rabbits out in no time."
"Okay. But then--"
He raised his right forefinger, pointed at a tub filled with writhing snakes. "They don't like raccoons, and raccoons don't like them. These snakes can fling themselves twenty feet through the air towards a food source. The bigger the victim, the faster they bite."
Mission accomplished.


A new Lately is published the first of each month. To print this Lately, please go here. To read previous Lately entries, please go here.