Stroke Information is a one-page source for information on strokes, aphasia, and related subjects.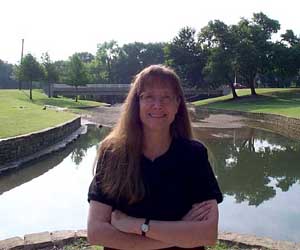 Picture of my wife Mary taken three months after a left-brain stroke which initially left her completely paralyzed on her right side, and unable to understand or speak even one-word statements.
---
BUY MY BOOKS | HOME | FICTION | ESSAYS | ON-LINE DIARY | MARGINALIA | GALLERY | INTERACTIVE FEATURES | FAQ | SEARCH ENGINE | LINKS | CONTACT
www.ralphrobertmoore.com
the official website for the writings of
ralph robert moore
contents copyright © 2013 by ralph robert moore, all rights reserved
[print-friendly version of this page]

[free speech therapy lessons -- 40 pages -- DOWNLOAD NOW]



stroke information
---
introduction
introduction | what is a stroke? | what is the effect of a stroke? | what is the treatment for a stroke? | what is aphasia? | what role may a caregiver play in a stroke patient's recovery? | what resources are available to a stroke patient or caregiver? | glossary of stroke-related terms
On April 17, 2002, at about 12:20 in the afternoon, the phone in my home office rang.
Checking caller ID, I saw the call was from my wife's office. I had just spoken to Mary a few minutes ago, we always spoke at noon to compare how our day was going, so I picked up the phone assuming she had something else she wanted to joke about.
Instead, it was her assistant, who told me she had discovered Mary sitting behind her desk, eyes glassy. Mary was unable to talk, or move. The people at Mary's work had called an ambulance. Her assistant said, "I think Mary's had a stroke."
I've written about that day, Mary's nine-day stay in the hospital, and her return home, in my on-line diary, here, here, and here.
During those first scary days following Mary's stroke, I searched on the Internet for information which might help me understand what a stroke is, and its ramifications. I found a lot of sites devoted to stroke information, but most of them covered the subject piecemeal. I couldn't find a site that had a general overview of stroke information.
Since my writing about Mary's stroke in my on-line diary, I've received a number of e-mails from people whose loved ones have themselves suffered strokes, and who have had the same problem finding a "one-source page" for stroke information.
In response to this situation, I've created this "Stroke Information" page on my website, hoping it might help all of you who face the same "out-of-the-blue" emergency I did.
This page is a work in progress, so please feel free to e-mail me with suggestions as to how I can improve it.
Suggestions should be sent to: